the orang-utan librarian tagged me on this like, hmmmmm….last century? That's sounds about. Well, thank you so much to her for tagging me – check out her post.  I LOVE Back to the Future and am so happy I was able to do it, finally.
Name a movie/book/show that makes you want to go back in time when you were younger and enjoy it all over again!
To be honest when I was a child I liked childish things, nothing I'd like to repeat even with my childish mind. The only thing I still watch as a semi-adult that I'd like to re-watch in all it's glory would be….I really don't know!
Book would be Jane Eyre
What's your favorite sci-fi and or fantasy book/show/movie?
I watch so much fantasy and sci-fi and have so many favorites that I can't possibly choose that. Book would probably be The Hobbit.
Harry Potter would be number two as of now. I should probably read more Science Fiction.
What's a moment in a book that takes place in the past or future that you'd like to visit?
Future is really hard since the majority of the futuristic novels I read are dystopian's – no one wants to go there.
Past is hard too because I'm black and….well we know history (at least American) lol. But I'm thinking that I'd love to do a Doctor Who and go to a Shakespearean play than going back to an actual moment in the past – except maybe the Harlem Renaissance.
Wonderful time for music, literature, food, and just a happening time to be alive.
What's a fictional store, cafe, etc. in a book/show/movie you'd like to visit?
It seems like all of Harry Potter should be mentioned here. I'd also like to visit Mrs. Lovett's Pie Shop
Name an automobile or way of travel in a book/show/movie that you'd like to take for a ride. What book/show/movie is it from?
I know it's unconventional, but I'd love to travel by dragon. Jumper would be cool, too.Along with the DeLorean of course!
Favorite fictional scientist?
Haha, that's so sneaky.
Dr. Emmett Brown of course!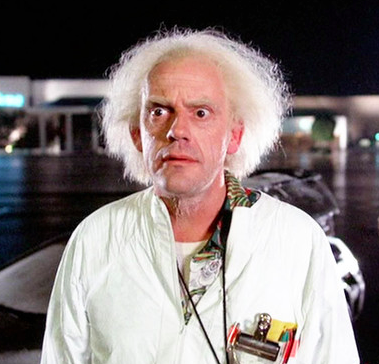 I'm forced to mention these too, though:
Dr. Kreiger (Archer)
The Doctor (Doctor Who – He's kind of a scientist)
Barry Allen (The Flash)
Fin
I'm not gonna tag anyone, but if you'd like to do it, please tag me so I can read your answers!