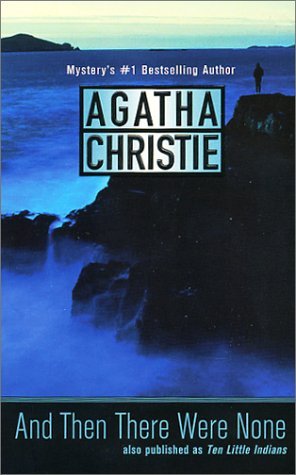 4.5 out of 5
★ ★ ★ ★
First there were ten–a curious assortment of strangers summoned as weekend guests to a private island off the coast of Devon. Their host, an eccentric millionaire unknown to all of them, is nowhere to be found. All that the guests have in common is a wicked past they're unwilling to reveal–and a secret that will seal their fate. For each has been marked for murder. One by one they fall prey. Before the weekend is out, there will be none. And only the dead are above suspicion.
---
Originally published as Ten Little Niggers, then re-released with the title Ten Little Indians, but that was still offensive, so they finally abandoned racially charged words totally and chose the title above, And Then There Were None. I have to be honest and say that I've put off reading this book for about a year. I bought it, placed it on "my bookshelf" (aka my pantry) and left it there in the dark. It wasn't purposeful and it had nothing to do with the double title change, because I knew it was supposed to be like a child rhyme or something, but it was just that I lacked the drive that gravitates me to books, to be frank it appeared dull. Boy was I wrong!
The first 30 or so pages are literally just characterization. We get an intro to all ten "victims" and see how different they all are. Ones an old religious nutcracker, another is a young reckless Adonis, then there's a doctor and judge, not to mention a mysterious governess, an ex-cop, a criminal, a general, and a sweet servant couple. Why would they be going to the same location for the same event? What do all of these people have in common? Well that's the question Ms. Christie answers in this novel. How people from all different backgrounds and settings and privilege could possibly have anything connecting them to each other.
For me the most intriguing element to this novel was the fact that we know the end. The death of each individual follows the children's poem Ten Little Indians, and Christie tells us the poem so that us reading knows everyone will die. I also enjoyed the psychological viewpoint of having all these people turning on each other because they believe you were involved in some elaborate revenge scheme. Which brings me to how well the murders were planned! Having each person die like they do in the poem was genius and it just made guessing who'd go next and who the killer was that much more suspenseful.
Although, the book was marvelous I didn't enjoy who the villain was. I'm pretty crafty when it comes to solving mysteries but with a novel like this it's impossible to guess the culprit. Personally, I don't find that appealing but that's just me.
Does this review do this book justice?
But hopefully you've been tantalized enough to give it a chance. This was my first Christie novel, however it won't be my last.