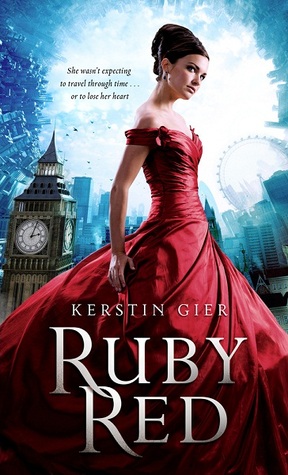 Book 1:
Ruby Red
★ ★ ★ ★ /★ ★ ★ ★ ★
---
Gwen is a normal girl.
Gwen is special.
Gwen always thought she was an average girl that could see ghost. Belonging to a long lineage of time travelers, Gwyneth is well aware of the fact that her cousin, Charlotte —the cliche beautiful, perfect bad girl  – has inherited this unique gene that allows them to travel through time. So when Gwen finds herself tumbling through time and not Charlotte you could only imagine the surprise of everyone, especially Gwen. 
Gwyneth must now unearth the mystery of why her mother would lie about her birth date to ward off suspicion about her ability, brush up on her history, and work with Gideon–the time traveler from a similarly gifted family that passes the gene through its male line, and whose presence becomes, in time, less insufferable and more essential. Together, Gwyneth and Gideon journey through time to discover who, in the 18th century and in contemporary London, they can trust.
♥♥♥
My Reaction:
♥♥♥
Pros:
Gwen – When it comes to characters I have to say Gwyneth was an awesome heroine that wasn't afraid to act silly and be herself no matter who she happened to be around. Her voice was very fun and filled with animation that you couldn't help but enjoy everything as if you really were in those situations.  She really was just an average teenager – minus the ability to time travel and see ghost – she's not overly beautiful, refined, or even blessed with nimble wit and a fierce tongue that's overflowing with knowledge, which allows for clever retorts. Nope, she's that girl with a weird disposition, the quintessential average girl. So, with the heavy dose of fantasy (I mean time travel is "impossible" right…) and a healthy dose of charming this makes for an interesting mix.
Leslie – Although I did like Gwen, Leslie was the real headliner of this novel and there's no doubt she would've been an awesome leading lady.  She's smart and amusing,  which is the ultimate package for a strong female protagonist.  But she's also a magnificent friend – not once did she doubt that Gwen could see ghost or time travel, and she also stood up for her when people called her mad. She was loyal and interested in helping Gwen anyway she could, which in my book makes her awesome.
Story line – I love time travel. It's wonderful in movies (Back to the Future I-III), tv shows (Doctor Who), and books like Ruby Red. So, the idea of a person having a time travel gene is extremely intriguing.  Plus, we have a secret society of time travelers, which is invariably fun.
Cons:
Gideon – For the love interest and hero of this trilogy, Gideon was extremely underdeveloped and horrible. There wasn't a moment in my reading that I enjoyed anything about him – even his "sweet" scenes were stale.  His insufferable attitude toward Gwyneth was unacceptable, and all because he was already used to Charlotte and thought Gwen inexperienced, oh and of course because he liked her but couldn't express it. Because this is 1st grade and boys that are mean really like you. Nope, he's just a self-righteous asshole, that's also a chauvinist. Doesn't he sound yummy?
"Mystery" – There isn't really any mystery in this trilogy, although the secret society itself is supposed to be a mystery.
History – Me being a history buff, I was hoping to find more history since they can only travel to the past, but there wasn't any real history talk besides the wardrobe scenes.  It's also somewhat inaccurate because we know that people during the Georgian era (the Victorian era as well) and all that preceded it didn't smell too good.
Ending – Since I was late to read this series, it wasn't bad, but the ending was beyond a cliffhanger. It was like she and Gideon kissed and then the end. There was no suspense just an episode that cut off.
♥♥♥
Fun and entertaining Red Ruby was a breath of fresh air (when I read it) and wonderful shift from my YA funk. A great start to a, hopefully, marvelous trilogy.
Click cover to buy