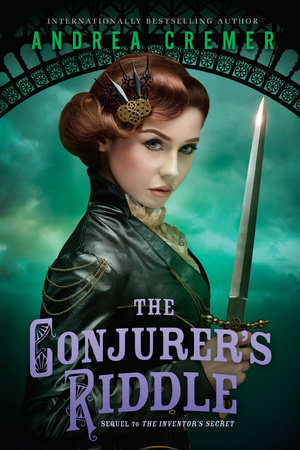 As you can probably decipher from the cover, this is a steampunk novel. This is the sequel to the novel The Inventor's Secret, so before reading this novel I suggest meandering down to your bookstore, library, or computer and get the first novel before indulging yourself with this sweet treat. Recently I've been loving me some alternate history themed novels and this book hits that spot with What would have happened if America had lost the Revolutionary War? It really makes you think and imagine a different world, while also incorporating some young adult steampunk action. I know you really want this novel, as do I, so luckily it's available today! Please read book one first, however. But let's not leave out  Andrea Cremer, the author of the extremely popular young adult, paranormal series Nightshade. So yeah, it should be great!
---
The Revolution is beginning–and Charlotte may be on the wrong side.
In this sequel to The Inventor's Secret, Charlotte and her companions escape the British Empire, but they haven't left danger behind. In fact, if they go against the revolutionaries, they face even greater peril. 
Charlotte leads her group of exiles west, plunging into a wild world of shady merchants and surly rivermen on the way to New Orleans. But as Charlotte learns more about the revolution she has championed, she wonders if she's on the right side after all. Charlotte and her friends get to know the mystical New Orleans bayou and deep into the shadowy tunnels below the city–the den of criminals, assassins and pirates–Charlotte must decide if the revolution's goals justify their means, or if some things, like the lives of her friends, are too sacred to sacrifice.
 
Click Cover to Buy