4 our of 5
 ★ ★ ★ ★/ ★ ★ ★ ★ ★
A true case of nature vs. nurture, although for Jasper "Jazz" Dent both psychological studies would put him in the same category. Can being raised by a serial killer make you one? Or could the bloodline decide it? 
Jasper "Jazz" Dent is a likable teenager. A charmer, one might say.
But he's also the son of the world's most infamous serial killer, and for Dear Old Dad, Take Your Son to Work Day was year-round. Jazz has witnessed crime scenes the way cops wish they could—from the criminal's point of view. And now bodies are piling up in Lobo's Nod. In an effort to clear his name, Jazz joins the police in a hunt for a new serial killer. But Jazz has a secret—could he be more like his father than anyone knows?
♥♥♥
This was an interesting novel and quite disturbing on some accounts, however it was also immensely entertaining! The beginning started off a tad bit slow for me, but once Mr. Lyga got into a groove I was extremely impressed, hence my four star rating. I do have to heed some reader with the knowledge that this book is on the cusp of not being a YA fiction novel, but borderline adult mystery. There isn't much steaminess to it, however it does go into graphic detail about murdering people and crime scenes, definitely not for the squeamish. I can say that this book would also not fit the mode for most die hard mystery fans either, because the killer is easy to spot and the dialogue can be sophomoric at times. Basically this novel has a cozy mystery murder plot, but the detail is not cozy and is indeed slightly disturbing.
♥♥♥
My reaction:
♥♥♥
Pros:
Originality – Now, some of you might have read YA fiction that has featured a plot like this one but this is a first, and hopefully not the last, for me; this plot was so different from anything I've ever even encountered in the YA fiction genre. Now, granted I've kept myself in a tight bubble when it came to YA novels, sticking with authors like Sarah Dessen, Meg Cabot, Susane Colasanti, Laura Ruby, Cory Doctrow, Lauren Barnholdt, Edward Bloor etc. but this was so dark and disturbing that I have to give major props to Barry Lyga (who also wrote The Adventures of a Fanboy and Goth Girl which was good). I mean when's the last time you read a young adult novel that was napping in murder, rape, and overall brutality?
The Murder – Although I figured out who the murderer was quite quickly still doesn't downplay the entire murder…right? Well, anyway the murder was nicely played out and kind of reminded me of Criminal Minds.  Leaving a fair amount of mystery to each kill, while also supplying the information needed to try and maneuver your way through it was very exciting.
Jasper's Friends – Jasper had amazing friends in Howie and Connie, who is also Jasper's girlfriend, that the awful illustration of Connie in particular, was forgiven. I loved Howie the way I love Stiles on Teen Wolf – hence the usage of him as Howie in the collage – and he reminded me of him, too. Which also brings us to Connie, who was an awesome female character in this novel that truly balanced out Jasper and Howie. She was fun but reasonable in her dealing's with Jasper and his dilemma. I also enjoyed the different kind of characters the novel had. Connie being Black and dating Jasper was awesome, because the novel wasn't about that, similar to David Handler's The Cold Blue Blood (The Berger and Mitry series). As well as, Howie being a hemophiliac which is a medical condition I've never heard a character been given until this novel.
POV – I'm a huge fan of male point of views in YA fiction, just because it seems as though it doesn't occur often. Sometimes the female POV is great, other times I want a different perspective on life and ideas that pass through male characters.
Jasper's Grandmother – Her character was hilarious and extremely psycho. She reminded me of the mother on Pink Flamingo (not Divine, but Edie) just crazier, which says an awful lot.
Cons:
Jasper – I feel bad putting Jasper in the Cons section because he really was a wonderful character, however he bitched so much about his inability to feel and how he wasn't sure if he was a serial killer too, in addition to how many people he could possibly kill if he allowed himself to…blah…blah…blah. At one point i literally remember yelling at the book:
Which I know is probably insensitive.
The Pace – Sometimes authors struggle with pace IMO, so for me the pace in this book needed to be a littler faster in some places and slower in others.
Writing – This novel is indeed a YA novel. The writing is not altogether complex and can be juvenile, so going into this novel you should be prepared for it to not be too in-depth of a storyline.
♥♥♥
Overall, you should check it out for yourself and enjoy the roller coaster ride that is, I Hunt Killers: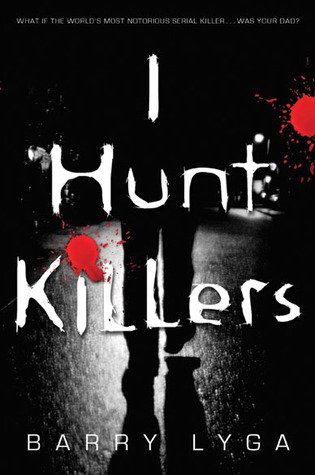 Buy